The Dallas Cowboys have been a part of the NFL since 1960 and are one of only two teams to play in every season. They've won five Super Bowls, eight conference championships, nine division titles, and hold the record for most consecutive winning seasons. There's no doubt that Dallas Cowboys fans all over Texas love their team! One way that Dallas Cowboy fans can show off their Dallas pride is by wearing a Dallas Cowboys mens leather jacket from DallasCowboysHome.com.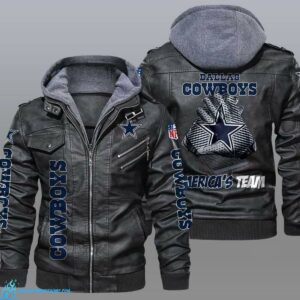 Detail Dallas Cowboys mens leather jacket
Product detail
Fabric: PU
Regular fit
Zip leather jacket
Printing process: DTF
Fabric Weight: 1.25 kg
There are two custon areas on the chest(15*15cm) and the back(30*35cm).
Average Production Time: 5 business days
Country of Origin: Imported
Brand: Dallas Cowboys Home
How long is my order production time?
Each Cowboys item is custom made and requires a production time of 5 – 7 days.
Shipping time Standard approval: 22 – 27 days from the day of dispatch.
Shipping time USPS approval: 20 – 25 days from the day of dispatch.
Shipping time FedEx approval: 7 – 10 days from the day of dispatch.
Our products are custom designs made in Dallas Cowboys Home using only the highest quality materials and manufacturing process available in today's market. Your satisfaction is always guaranteed! We will send the goods to you as soon as the product is finished.
>>> See more products at Dallas Cowboys clothing and you can see more designs of Dallas Cowboys leather jackets.