Should you shop at Dallas Cowboys Home?
Perhaps a lot of customers have visited our store, and most of them are hesitant because they do not trust the store yet. Many of our customers have ordered and received the goods, some are very satisfied, some are not satisfied with the delivery time…
We do not make any offers for customers to order at Dallas Cowboys Home. We will try to develop so that customers can trust the store more.
Who are we, why do we sell this product?
We are spontaneous store. We sell products that we design ourselves without copying or copyrighting 3 parties to sell. We only sell 3D products at a price that is suitable for the market and our materials without competition and dumping.
All of our products are custom made by our team's experienced designers. We specialize in selling 3D products.
If you have your own designs, please contact and email us, we will design the order according to the customer's wishes.
Important information about us
We've always been focused on providing an exceptional experience for our customers and are rated as one of the best stores for Dallas Cowboys souvenirs. We have a competent staff with at least 5 design professionals to always create novel designs. Dallas Cowboys Home will be a great experience with souvenirs for fans.
Our story
We have gone through many difficulties and obstacles to gain the trust and love of our customers as we are now. We always strive every day to improve ourselves with dedication, work requirements, and creativity to meet customer satisfaction. Moreover, our greatest achievement is the trust and love and trust of our customers. We have worked hard and never stopped learning to update the latest and unique designs.
Why shop with us?
We offer a huge selection of Dallas Cowboys gear from top quality brands, all in one convenient place. We are passionate about our goal of giving Dallas Cowboys fans around the globe access to their favorite team's equipment.
We sell all sports souvenirs (sports jewelry, shoes, jerseys….) for sports fans. We pride ourselves on not only offering a wide selection of official products, but also having industry-leading shipping, return and customer service policies.
About Our Service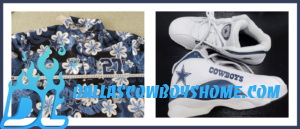 Follow Us daily to be able to update the latest designs! Here we provide many template designs with many different such as:
Dallas Cowboys Hawaiian Shirt

Polo Shirt

Mask

Jacket

Bomber Jacket

Lather Jacket

Sweatshirt

Shoes

Pants

Hoodie

Canvas

Shorts
Product material at Dallas Cowboys Home
All of our products are manufactured with great care, we pay great attention to the quality of the product as well as the price to suit the pocket of our fans. Many fans emailed us that they wanted to know about the product quality more specifically instead of looking at them from the pictures. To find out about this, fans can refer to the fabric in our store here.
Fan Service
Our fan advocates are committed to your satisfaction and see every contact with us as an opportunity to build a relationship for better growth. We are also shoppers and are dedicated to bringing the best value and novelty.
Our prices will be much cheaper than the market but the material is still very good that's what we aim for our customers.
If your expectations are not met and you don't want to come back, then we have not done a good job.
Conclusion
We hope our customers will have a great experience at the Dallas Cowboys Store, your return is our honor.